| | |
| --- | --- |
| Tatey | 20th May 2012 08:15 PM |
---
Quote:
---
Originally Posted by flyerncle (Post 73803)
Simon,if you speak to Ginetta in Leeds and ask for the stat housing they use in the G20 they are about £40 and very short and low profile.
You may be able to see it on the Teamtrain pics on NTS website.

Have you got the large cup washer on the gearbox bolt.

Rally Design mount is the dogs bits and is what was fitted to the Teamtrain car I built.
---
I did consider the Rally Design mount but at £45 + VAT and delivery it didn't really seem worth it.
If only I knew about the Ginetta stat housing a few weeks ago! Ah well, the new stat is in so I'll leave it at that for the moment, it should mean I don't have any cooling issues since it is stock.
| | |
| --- | --- |
| The V8 Files | 20th May 2012 08:29 PM |
---
Quote:
---
Originally Posted by Tatey (Post 73804)
TR5 is the engine bay diagonal cross member I think? I was originally going for a CVH engine install and it was recommended that this wasnt put in as the engine wouldnt fit with it in and when I stripped it down it was proved to be a dud so I ended up going for a zetec engine instead, I've been waiting to finish my inlet system so I can see if I can put this back in, which I think in the next few days I'll have a look and see if it can.

But other than that it is a book spec chassis, other than the roll bar which has been extended due to my height (6'5"), its been increased in height by 125mm.
---
Thanks for that, I'm trying to get my head around if I can use a standard chassis around a V8 (I'm hoping so) and TR5 looks like it would probably be in the way for me too. I feel better now about the possibility that it can be removed, was it recommended to add shorter bracing on either side?
| | |
| --- | --- |
| Tatey | 20th May 2012 08:37 PM |
---
I have to say I don't know many people with TR5 in and they haven't put in any shorter bracing in. I know some people have shoe horned the Sierra V6 engine in there so I'm sure a V8 will be more than possible as there is plenty of room lengthways. I think if I can't add TR5 back in then I will add some shorted braces between the outer rail and the transmission tunnel rails, but put them on both sides so long as they don't get in the way of anything.
| | |
| --- | --- |
| The V8 Files | 20th May 2012 08:50 PM |
---
thank you, thats a big help :)
| | |
| --- | --- |
| Tatey | 22nd May 2012 09:09 AM |
---
Well the brake line/fuel line/brake reservoir hose + p-clips and hose joiner order is in! £260 spent and countless days and emails spent with Sylvain (Voucht) making sure everything was correct.
I've ordered a full set of stainless braided brake lines with separate bulk head connection down the transmission tunnel, meaning that I've got a total of 9 brake lines coming (4 corner lines, M/C to N/S + O/S (which is in 2 parts for hydraulic brake switch), M/C down to handbrake bracket, handbrake bracket to O/S rear brake bracket T-piece and then N/S rear brake bracket.) all brake hoses are coloured red with a PVC coating which means they wont rub on anything so my IVA should be happy.
Next I've ordered 4m of stainless braided nitrile fuel hose with aluminium hose covers/clamp which look like this:
http://www.ebay.co.uk/itm/AN4-4-12MM...#ht_1739wt_929
As well as some braided brake fluid reservoir filler hose as I have a remote reservoir, with some more of the above hose covers/clamps.
Then finally a rear t-piece, P-clips for both the brake lines and fuel lines and finally shipping to the UK.
All in £260 for all of my brake lines and fuel lines seems like a good deal to me especially the quality that they will be and I think they will really make the car. I will post a picture when they arrive later this week.
| | |
| --- | --- |
| Tatey | 22nd May 2012 08:50 PM |
---
Well my parts from Caterham arrived today including the new gearbox mount, I've taken the old one off and fitted the new one to the gearbox, but will have to make new mounts for it later this week, however it is resting on top of the old mounts at the minute and its safe to say it has made a massive difference!

Where before I could move the box up and down with my hand on top of the gear stick or my foot on the end of the box, i now have to fully stand on top of the box and jump up and down to get any movement!

I will try and get a comparison video when I have the new mounts in.

Also on a side note....why does it seem that fastener suppliers can't get orders right?! The new fasteners I ordered for my air filter backing plate also arrived today, they came in a pack of 12 for some M5x25mm cap head stainless fasteners, however 3 of the fasteners were actually M5x15....luckily I only needed 8 for my backing plate, but still...is it honestly that hard?

I have to say the only positive fastener supplier I've had so far is Orbital Fasteners, it's just a shame their postage is so much.
| | |
| --- | --- |
| Tatey | 28th May 2012 02:15 PM |
---
Well I finished my last exam of 3rd year for my degree today and I got back to find my brake and fuel lines had arrived! Impressed doesnt get near to my opinion of them. They are very high quality and I think they will definitely look the business on my car. I haven't had a chance to get them fitted but I will try and do it tomorrow and take some pictures. Here are the pictures of what I got: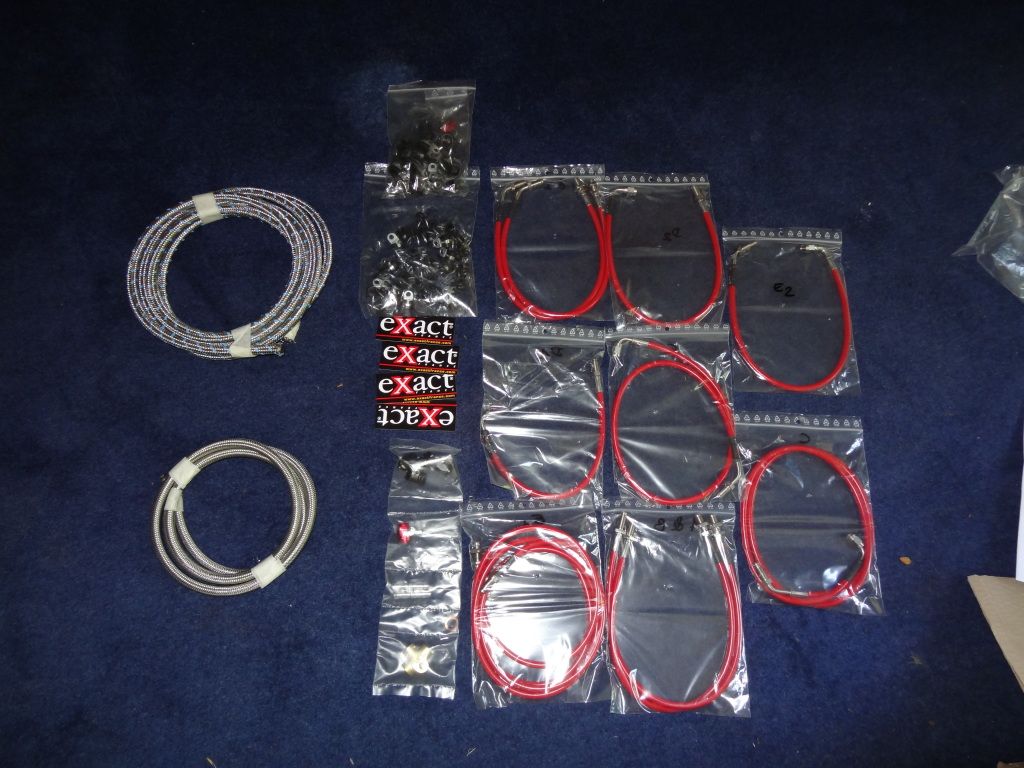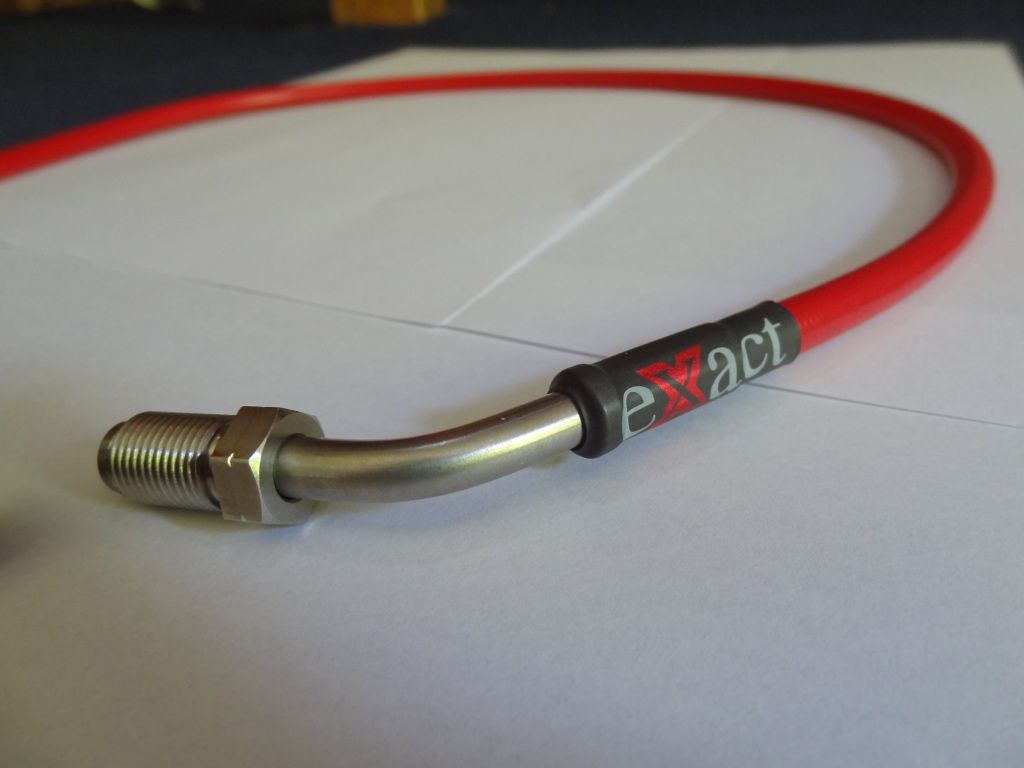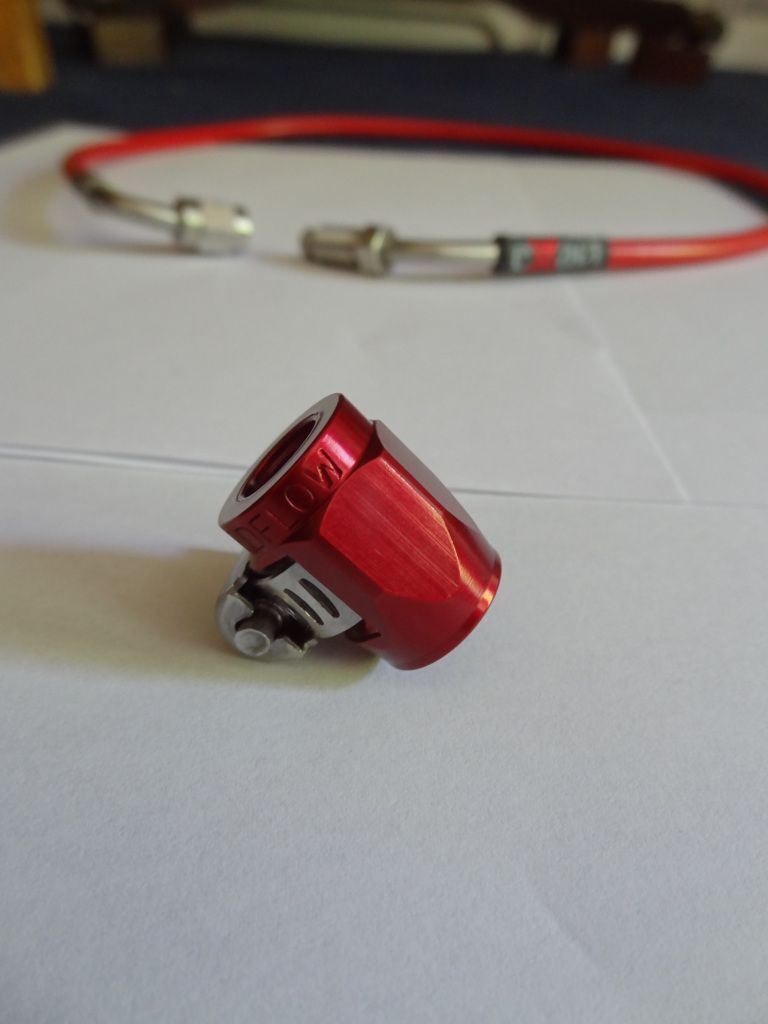 I've now painted my gearbox satin black, it was far too hot in the garage over the weekend so decided to take the engine and box out to give it a lick of paint, it looks a lot better now and I'll get some pictures up tomorrow. Still need to make the new gearbox mount, just need to find where I put my left over 5mm plate...
My rear light clusters, number plate light and aluminium passenger foot rest have been ordered from SVC so they should arrive at some point this week.
I ordered a new oil filter for my engine as I managed to dint my one, however the one that has arrived is the longer style which I don't think will fit as it will hit the steering column so I may have to order a new one. It only cost £4 so its that much of a problem.
I should start making a lot more progress on the car now that my dissertation and exams are out of the way.
| | |
| --- | --- |
| The V8 Files | 28th May 2012 04:16 PM |
---
Shiny bits :)
| | |
| --- | --- |
| vmax1974 | 29th May 2012 08:56 AM |
---
I like these shiney bits too I believe my brake and fuel lines will be coming from sweden when the time comes
All times are GMT +1. The time now is

07:03 AM

.
Powered by vBulletin® Version 3.6.4
Copyright ©2000 - 2022, Jelsoft Enterprises Ltd.