Hello all,
I havenít updated for a little while, but have been steadily making progress in the background.
Since my last post I have:
Made the side panels
Made the rear panel
P-Clipped the front brake lines
Put the engine back together after having the head skimmed with new gaskets and a shortened sump
Finished off a few bits of welding Ė Added dowels to the column extension, a couple of bits on the peddle box, and made the inlet manifold
Mounted the radiator/fan and most of the plumbing
When I got to this point, I couldnít resist the urge to bodge a few wires on, chuck in some fuel and see what happened when I turned the key.
Aside from being a bit of a child and wanting to hear my toy make some noise, it was quite important for me to give this a go Ė The engine hadnít been started for 3 years and 5 months and it had been apart for 3 of those. It was also now using bike carbs with a bike fuel pump and running EDIS/Megajolt for the spark, both of which were untested. I really just want to know if it was all OK before going any further with the CVH lump.
So....
I wired up the crank sensor, coil pack and EDIS (I am waiting on a TPS connector and usb to serial adapter for use with the MJ, so limp mode only for now). Took a lead out and used it with a spare plug to see if it was sparking Ė Nothing. Scratched head before realising Iíd missed an earth off! With this attached there was spark.
Wired up the fuel pump. Gallon of fuel in the tank. Ignition on, fuel pump was initially loud, then quiet when it had primed the new lines. Turned the key only to have it turn over and backfire loudly. After this happened a few times, and following some more head scratching, I swapped the two wires to the coil pack over and turned the key. IT STARTED!!!
Obligatory video:
https://www.youtube.com/watch?v=EEb1-lLYD0I
Since the video I have fitted the side panels, made an under scuttle panel to mount the loom to, fitted the nosecone, and fitted the proper exhaust.
The next steps for me are going to fit the rest of the bodywork and roll bar, tidy/permanently fix the wiring, and get back to the position where it starts again. Then Iíll be on the hunt for some shocks, a prop and some rear lights!
As it sits now: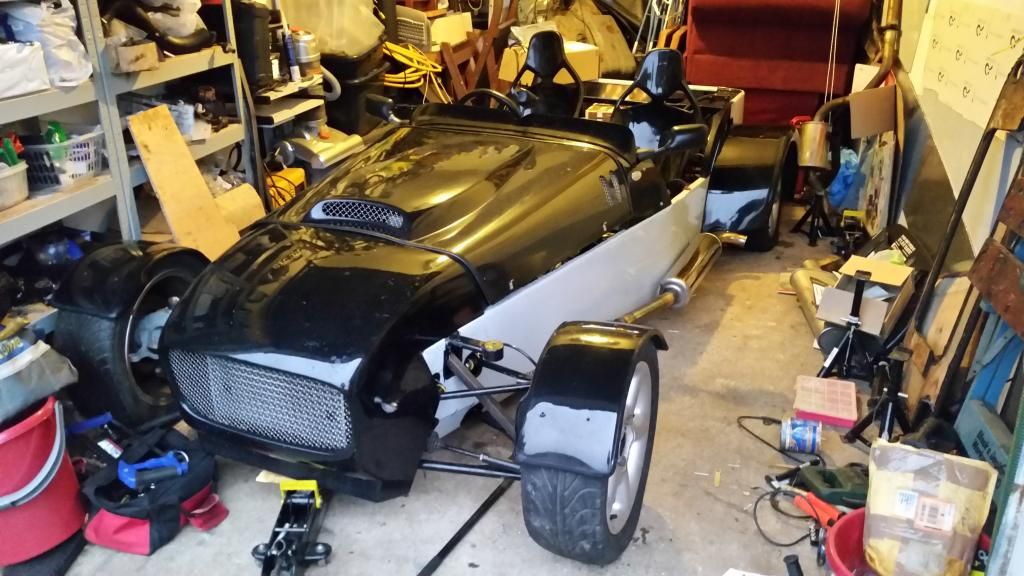 Cheers
Eddy