I have been meaning to make a post on this topic for a very long time.
Been a nice day today and having nothing pressing to do, I thought it was time that I did.
This post is very relevant to a recent thread elsewhere but I guess this is the correct place for this post as it is mostly relevant to building the chassis.
Spent an hour or two this afternoon making a few welding test pieces.
The test pices were 25mm X 25mm, 16 gauge ( 1.6mm ) ERW square tube off cuts.
The welder used was a Lincoln Powertech 191C ( 180 amp ) .8mm wire & sheilding gas was, BOC Argoshield Universal
All of the test welds were un-prepped & but welded with no weld gap.
None of the material had been subjected to heat & all welds were started from cold.
Once the test sections were welded, the welds were cut out from the square tubes to produce, flat test strips.
Here is a sequence of photographs.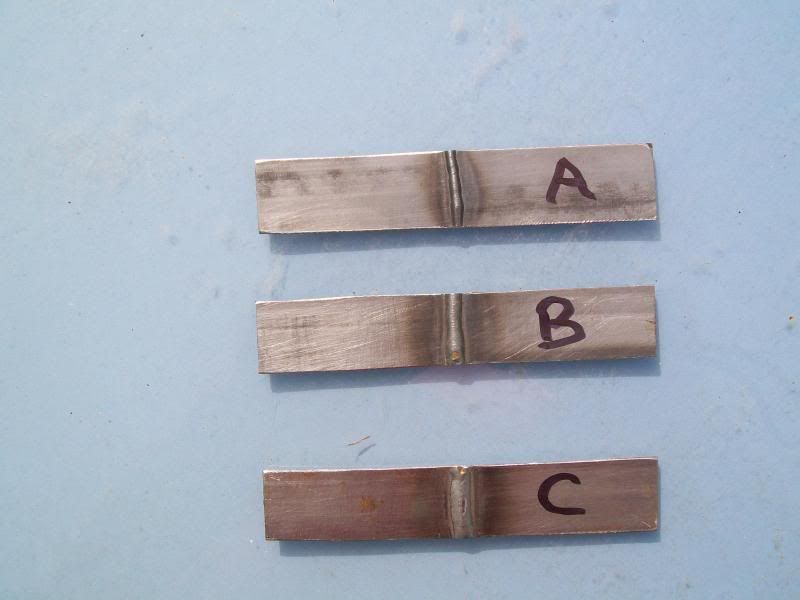 For ease of identification the test pieces are marked A, B & C
Looking at weld A you may think it looks reasonable.
Nice narrow weld bead that will not take too much work to fettle & make flat.
However, looking at it with a trained eye, allarm bells start to ring & the weld looks cold.
Weld A used a low current & wire speed setting.
Weld B looks fine & used a sligtly higer current setting with increased wire spped
Weld C looks fine with exception of visual evidence of being a tiny bit on the hot side !!??
This was performed with another increase in current & wire speed.
Now we flip the samples over to reveal the truth.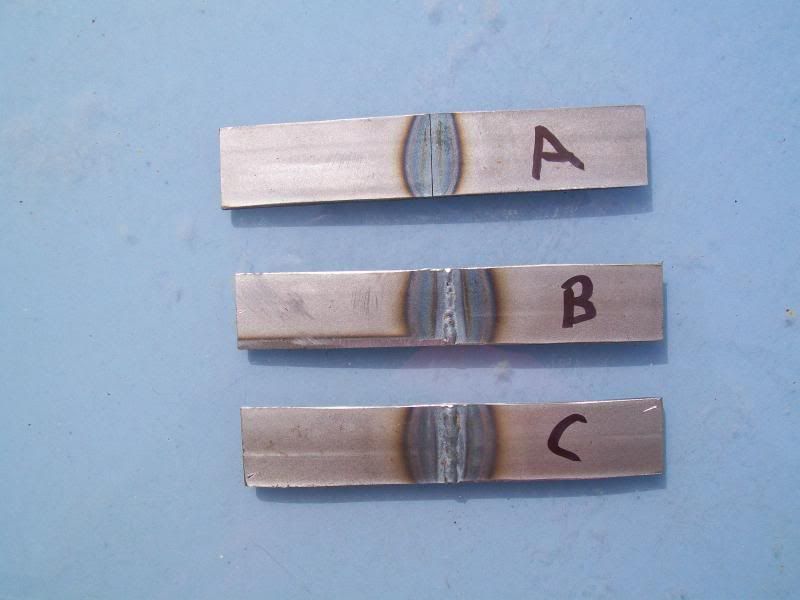 Instantly it is evident that weld A lacks any form of root penetration.
Weld B has a full root penetration ( A tad shallow )
Weld C has a good root penetration ( A tad too much )
To be ideal, a weld setting in between B & C would produce an ideal weld, one that I would be happy to submit to any form of testing.
That said, in my humble view, either weld B or C is more than suitable for the Roadster chassis & would easily pass BS standards testing.
More to follow in part 2 , just as soon as it is typed in a few moments from now ;)